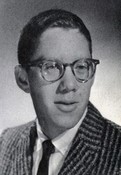 Steven G. Hayden, VNV
July 13, 1945 -- March 29, 2016
Steve was born in Seattle to Doris & George Hayden and grew up in Edmonds, WA.
He was talented with diverse interests from archery & weight lifting to Boy Scouts & cats, oil painting, playing violin, investing and travel; earned a WSU Forestry degree & later owned a cool 1965 Corvette.
After serving as a US
Army
helicopter mechanic in Vietnam (unit 147 ASH 307 BN USARV) he returned home as a disabled veteran.
San Francisco's Golden Gate Apartments was home for 18 years, where he passed away in his sleep. Survived by sister Susan Dee Hayden Steiner (Seattle) and her sons Aaron & Larry: brother Paul Malcolm Hayden (Gervais, OR) and his daughter Christie — we will miss him!
A graveside service with military honors and time to share memories will be on
Wednesday,
July 26, 2017 - 1pm
Evergreen Washelli
11111 Aurora Ave N.,
Seattle
Following the service, please join us for refreshments in E.W.'s Celebration Hall, (206) 362-5200.
Published in San Francisco Chronicle from July 23 to July 25, 2017